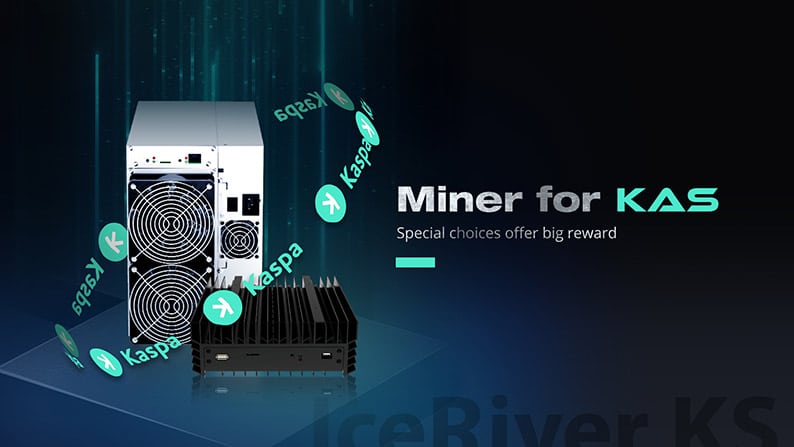 Brief Introduction of Iceriver and Iceriver KS Miners
IceRiver Brief Introdution
Established in 2023, Iceriver is a new cryptocurrency mining manufacturer that specializes in the production of KAS Coin mining machines. KAS Coin, also known as Kaspa, is a digital currency based on the innovative KHeavyHash algorithm. Iceriver has earned its reputation as an industry leader by becoming the first and foremost manufacturer capable of producing mining equipment tailored specifically for KAS Coin. as mining Kas coin is very profitable, Iceriver's mining equipment Like Iceriver KS0, Iceriver KS1, Iceriver KS2, Iceriver KS3M, IceriverKS3, specifically designed for KAS Coin, has earned a reputation as the most profitable mining hardware in the world. By these Icerive KS crypto Miners, Miner Farmers can get ROI back as soon as possible.
Due to the exceptional profitability of Iceriver's mining machines, they have seen significant demand in 2023 for several models: Iceriver KS0 100G, Iceriver KS1 1T, Iceriver KS2 2T, Iceriver KS3M 6T, and Iceriver KS3 8T. Let's compare these machines in terms of their model, power consumption, cost, and daily profit, so you can choose the right miner
IceRiver KS Model Comparasion
Due to the stable BTC price of $30,000 USD throughout 2023, mining profits have remained relatively low, with most mining machines generating earnings of around $10 USD per day. This includes the Antminer L7 9500MH, a Litecoin (LTC) miner known for its consistent performance and relatively good profitability under these circumstances.
However, when purchasing a crypto miner, it's important not to base your decision solely on profitability. First, you should consider the long-term prospects of the cryptocurrency produced by the miner. Additionally, assessing the quality and reliability of the mining equipment is crucial.
Iceriver, a newcomer in the industry established in 2023, has been gaining attention. According to customer feedback, Iceriver's casing appears to be thinner compared to that of the Antminer. However, after a month of mining, there haven't been any significant issues reported, suggesting that Iceriver's quality is indeed reliable.
For new miners just starting out, we recommend beginning with the Iceriver KS0. This model is cost-effective, with a power consumption of only 65W, making it suitable for home use. If customers are in regions with lower electricity costs and seek a quicker return on investment, we suggest considering the Iceriver KS3M 6T.
Considering the potential for KAS Coin's price to rise, the payback period for Iceriver equipment is estimated to be around three months. However, it's worth noting that KAS Coin's price may fluctuate, and as more KAS miners enter the market, mining difficulty could increase, potentially lengthening the payback period.
Furthermore, Iceriver offers two additional models, the Iceriver KS1 and Iceriver KS2. These models may not offer the same cost-effectiveness as the Iceriver KS3M, but they come at a lower price point, making them suitable for miners looking for a faster return on investment. As for the Iceriver KS3, it offers the highest profitability but comes with a higher price tag, exceeding $27,000 USD as of September 2023. We recommend cautious consideration of the Iceriver KS3, especially for those who are not extremely bullish on KAS Coin or for experienced miners.
Conclusion
Iceriver has made a significant mark in the cryptocurrency mining industry despite the challenges posed by a stable BTC price in 2023. Its dedication to KAS Coin mining and innovative mining hardware design has garnered attention. When choosing an Iceriver mining machine, miners should carefully consider their goals, budget, and electricity costs.